You can save money on gifts by shopping wisely and presenting them nicely. Here's a perfect example: One time I found my mother in law's favorite bath gel on clearance for $1.00 instead of the $8.00 it normally costs. I bought all they had left and then, for several holidays, I made nice gift baskets with new items from the dollar store, yard sales and the thrift store. She would never have known that the $30 value only cost me $5-$7 for each one! Of course, we put the money we would have spent toward paying off our credit cards instead of just spending it.
Listen to what they like, then keep your eye out for good deals at clearance aisles, thrift stores and yard sales. If someone collects something small, make up a nice little gift with several of those small things. Here's a good example: My daughter collected penguins last year. We collected several over a few months and then made a nice box filled with penguins for her. She never knew and wouldn't have cared that the cost was only a couple of dollars. It made a huge impression because it was something she liked.
Remember when shopping for gifts, it's not so much how much you spend but how you present it. If you think about it, when you pay more for something at the store, what you're often paying for is just the presentation.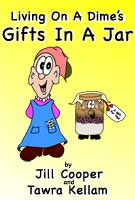 Gifts In A Jar shows you how to make all sorts of cool, yummy gifts that will save you money while endearing you to your friends for life!
Gifts In A Jar features ideas to make delightful Gift Baskets like those in the expensive stores — everything from the Honeymoon Basket to the Get Well Basket.
"Gifts In A Jar" is already included in Dining On A Dime and Not Just Beans. We're offering it as an e-book by customer request.